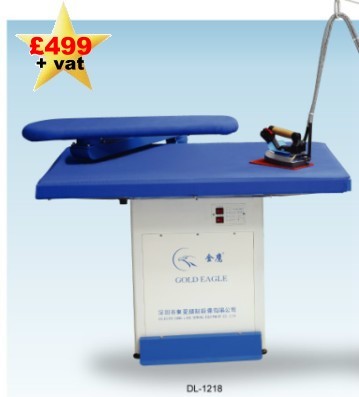 UK PARTS, SERVICE & PRODUCT SUPPORT

All GOLD EAGLE Product has been designed to meet and exceed all EUROPEAN DIRECTIVES for Quality & Safety.
CE Approved.


Now here's the business if you are in the Curtain Trade or you Press Large Items. The DL1218 Flatbed Heated Vacuum Pressing Table complete with Sleeve or Tube Arm.
Large Heated Pressing Table measuring 122x76 cms with Vacuum Downdraught for fast efficient Pressing. Toe operated Vacuum Switch and Thermostatic Control to Heating Elements. Use in conjunction with one of our Steam Iron/Boiler Combos (shown below) for a Cost Effective Solution to your Pressing Needs. Can be used with or without Sleeve Arm.
Connects to Standard 230/240v 13amp socket.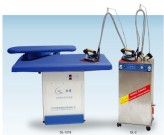 Click To Zoom