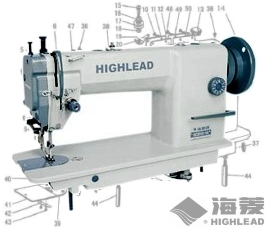 HIGHLEAD GC0318-1 Walking Foot Lockstitch

One Of Our Best Selling Machines ! A very Capable & High Quality Top & Bottom Feed Lockstitch which is Ideal or Sewing Thick & Bulky Work Effortlessly and Easily. We have sold 100's throughout the UK, Ireland & Europe over the last 10 years.


Designed In Japan and manufactured to Meet & Exceed all European Requirements for Quality & Safety. Each machine carries the CE mark as your Guarantee.

Identical to the MITSUBISHI LY2-3300-BOB, PROTEX TY3300, WIMSEW 3300 JSM PF5318 and CONSEW 205RB Machines.


PERFECT FOR SEWING UPHOLSTERY & SOFT FURNISHINGS. We hold a wide range of Single & Double PIPING FEET in all sizes to fit this machine for Despatch Today.
WE ALSO CARRY all Types of Accessory Feet For The GC0318-1 for Edge Stitching, Left & Right Toe Zipper Feet Binding Feet etc . Please See the Attachment Foot Catalogue in the Left Column.


HIGH OPERATING SPEED Upto 2500 Stitches Per Minute can be obtained dependant on the Application being sewn,needle size and thread type.

Uses STANDARD GROZ BECKERT 135x17 Needle which are available from us.

Very Competitively Priced, So Call Today

Supplied COMPLETE Every Machine we sell is supplied Complete and Built Up so you can get working 'Out Of The Box'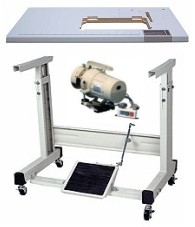 Unit Stand consists of Stand Unit, High Quality Benchtop Complete with Workdrawer, Clutch Motor and all Accessories.


UK IMPORTER, PARTS &
SERVICE CENTRE. Parts For This Machine Are HERE


ADJUSTABLE TOP & BOTTOM FEED
Independently Adjustable Top & Bottom Feed System ensures accurate and 'Pucker Free' Seams on all Difficult To Sew Applications like Leather, PVC's & Plastics, Velvets & Dralon etc
in both FORWARD & REVERSE Sewing.

LONG STITCH CAPABILITY
Offering An Adjustable Stitch Size of between 0 & 8mm, this machine is perfect for Top Stitching on Hides, Leather and PVC Banners & Signs.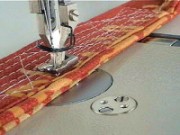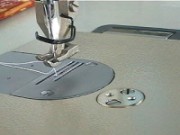 HIGH FOOT LIFT
Foot Lift Height by Hand of 8mm and using the Knee Lift Upto 16mm can be achieved for use on Bulky and Thick Work.


LARGE CAPACITY ROTARY HOOK
Having A Large Capacity Hook means you can have a Large Capacity Bobbincase. The GC0318-1 offers 2.5 times the amount of thread on the bobbin over a standard machine. Less Bobbin Changes. Great for Long Runs or when using Thick Thread.


AUTOMATIC LUBRICATION
The GC0318-1 is fitted with an Automatic Lubrication System (Self Oiler). This ensures that all contact parts are lubricated when running which aids in smooth operation and extends the Machine and Parts service life. Click To Zoom.

Click HERE For The HIGHLEAD GC0318-1
Parts & Instruction Manual


or



All MAJOR CREDIT & DEBIT CARDS ACCEPTED