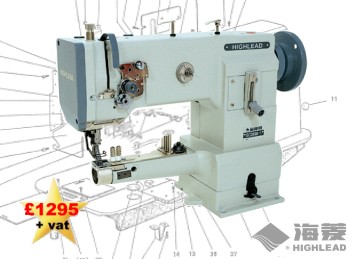 HIGHLEAD GC2698-1B Cylinder Arm Synchronous Binder
Introducing the GC2698-1B Small Cylinder Arm Lockstitch Synchronous Binder with Large Hook. This machine uses the exact same feed and binder motion system as the PFAFF 335 and cloned type machines. It employs both needle and compound feed to give positive feeding and uniform stitching on all types of application. Ideal for use on Leather Goods, PVC, Nylons, Cordura and all difficult to bind work pieces. Small Cylinder Arm design allows binding on tight radius corners and curves.

Using a synchronous motion, the close fitting binding folder moves backwards and forwards with the feed mechanism to ensure constant accurate sewing of the binding tape. Can be used with Polyester, PVC and Leather Edge Bindings on Shoes, Luggage and Automotive Parts etc. Perfect for Binding Household and Light Quilted Goods like Placemats and Oven Gloves.
LARGE 1.4 times HOOK CAPACITY means less Bobbin Changes for increased efficiency.

The HIGHLEAD GC2698-1 offers exceptional value when compared to the PFAFF 335.


All Major Credit & Debit Cards Accepted



All HIGHLEAD Machines are Designed to Meet & Exceed all European Directives For Quality & Safety. Every Machine We deliver is marked with the CE legend.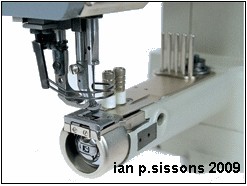 Small Cylinder Arm Design For Binding Difficult Pieces.

Integrated Bobbin Winder in Machine Arm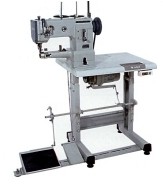 FEED OFF Arm Unit Also Available