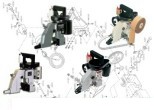 Bagstitcher Machine Accessories

Contact Us by e-mail


or




A945 Bagstitcher Thread
We hold stock of Bagstitcher Thread and are happy to supply any quantity. 6 cones or 6 tonnes
No Problem


All Images On This Website Have Been Digitally Watermarked
© Ian P.Sissons 13/02/2013
Page No. 4128
Registered In England
Company No. 05493326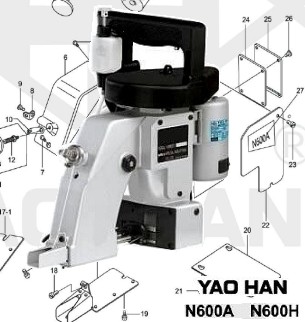 YAO HAN N600A Portable Bagstitcher Replacement Parts, Repair, Service & Product Support

We hold stock of both Generic & 100% Genuine Manufacturer's Original Replacement Parts.
So give us a call and get your parts tomorrow. This is just a selection of our most popular parts. So, if you cannot see your part or are unsure what you need, take a look in the Parts List or please call and we'll be delighted to help.
High Quality Portable Bag Stitcher which closes Jute, Paper, Hessian and PVC Bags and sacks quickly & efficiently High (1600rpm) operating speed.
Built in Thread trimmer which cuts the sewn chain at the end of every closure.
Automatic lubrication to prolong component and machine life.


6001828
Moving Knife


6001829
Knife Screw


6001830
Fixed Knife


6001815
Needle Plate


6001007
Needle Plate Screw


6001808
Feed Dog


6001441
Presser Foot


6001431
Needle Bar

6001432 Needle Clamp Nut

DNx1 Needle
B01002 & 6001433

6001615
Looper

6001613
Looper Holder

6001011
Tension Assembly

6001012
Tension Stud


6001001
Thread Stand


6001006
Top Cover



6001833
Knife Cover


6001826
Knife Spring



6001823 Knife Carrier Bracket



6001824 Knife
Bracket Shaft


6001806 Knife
Driver Bracket


6001020
Looper Cover

6001017 Needle Bar Guard

6001012
Side Cover

6001019
Cover Screw

6001208N
Oil Pump

6001206 Switch
more info

6002001
Power Lead


6001801 Feed
Dog Carrier


6001446 Foot Lifter Lever


6001221 Needle Bar & Foot Bar Bushing (3 Used)


6001223 Lower Presser Bar Bush


6001437 Presser Foot Bar


6001618 Looper Driving Cam
more info


6001606 Looper
Rocker Shaft A


6001609 Looper Roller Stud Screw

6001608 Looper Driving Roller

6001611 Looper Rocker Shaft B

6001428 Needle Bar Clamp Link

6001425 Needle Bar Lever

6001408 Conn. Rod Assembly

6001414 Rod
End Bearing

6002004
Motor Pulley

6001229
Handle Assembly

6001418
Spring Plate

6001434
Presser Foot Lifter Base

6001601 Spring Supporter Block

6001424 Needle Bar Lever Pin

254271
Hanging Hook

Ask Us About Trolleys
Increase Efficiency with a GK/S-8 Trolley. Makes light work of closing Bags and Sacks. Supplied Complete Withy Sewing Head


6002003 Drive Belt 160XL


A962 Spring Balance

YAO HAN N600A
PARTS BOOK

Bag Stitcher Thread
We Also Supply Bag Stitcher Thread on Larger Sized Cones.

1.5kg - 2.5kg - 5kg & 10kg Cones Available. Also available in BLUE