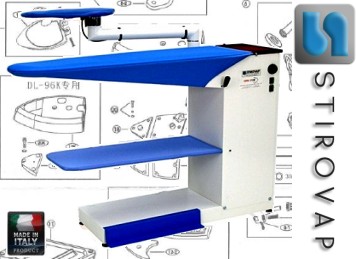 STIROVAP Model 603 (with sleeve arm)
Ideal for Laundries, Ironing Services, Factory Workshops and Dressmaking Shops the Model 603 by means of powerful suction keeps article always dry thus reducing ironing time considerably.



Model 602 Thermostatically Controlled Heated Vacuum Ironing Table having a powerful suction action that keeps the product dry thus reducing Ironing Time and Increasing Efficiency.


800watt Heating Element which is User Adjustable to give a Table Temperature Between 0 & 120 degrees.


Foot Operated Vacuum Switch For Full User Control

Storage Tray & Full Range Of Accessories

Model 603 Model 603 Specifications are Identical to the 602 with the exception that it is fitted with a Heated Vacuum Sleeve Arm.