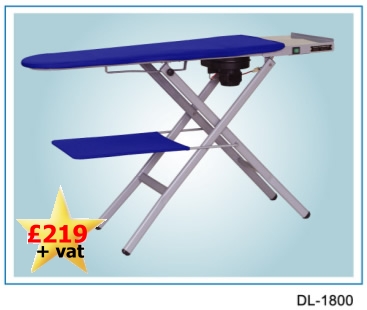 A Cost Effective Solution to your Pressing Requirement.
We are happy to show you our DL1800 Pressing Table.
A Compact Unit which simply folds away when not in use, this unit is ideal for small work areas where space is at a premium. Pressing is so easy. The DL1800 offers a heated Board and a Powerful Vacuum for quick Drying of the Pressed Article. Use in conjunction with one of our Boiler/Iron Combinations for a very versatile and efficient pressing station.

UK PARTS, SERVICE & PRODUCT SUPPORT


109 x 35cms Board having 3 adjustable Height Settings upto a Maximum of 92cms

Use In Conjunction with one of our Boiler/Iron (DL6 shown) Combos for a Very Portable and Efficient Pressing
Station which will not 'Break The Bank'

Widely used in Tailor and Alteration Shops, Dry
Cleaners, Bridal Studios and
Soft Furnishing Workshops.

Look At The Benefits
Cost Effective
Heated Table
Vacuum Drying
Fold Away Table
Call Us Today for More Information


All GOLD EAGLE Product has been designed to meet and exceed all EUROPEAN DIRECTIVES for Quality & Safety. CE Approved.