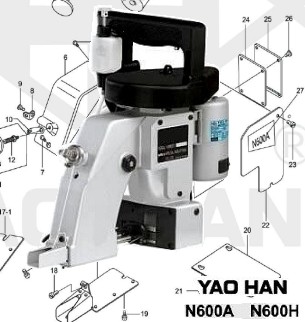 YAO HAN N600A Portable Bagstitcher



New To Our Range is the Yao Han N600A Portable Sack Stitcher. Quality manufactured in Taiwan by this world renowned company.
High Operating Speed of 1700 s.p.m. gets the job done fast. Built to a very high quality, performance is guaranteed. Steel Looper Drive Cam.
Single thread chainstitch closing of Paper Jute, Hessian & PVC Bags and Sacks.

Automatic Thread Trimmer cuts the chain between every closure making this a very efficient and fast machine in any production environment.
Automatic oiling system ensures all contact parts receive correct lubrication thus extending service and component life, especially in dusty and mineral packing environments.


Ask Us About Trolleys
Increase Efficiency with a GK/S-8 Trolley. Makes light work of closing Bags and Sacks. Supplied Complete Withy Sewing Head


A962 Spring Balance

Registered In England
Company No. 05493326


YAO HAN N600A Parts are HERE

YAO HAN N600A
PARTS BOOK


YAOHAN N600A &
N600H PARTS BOOK

© Ian P.Sissons 14/04/2013

Bag Stitcher Thread
We Also Supply Bag Stitcher Thread on Larger Sized Cones.

1.5kg - 2.5kg - 5kg & 10kg Cones Available. Also available in BLUE